Mike at the Farm on March 22, 2000
The Interview
After a little more waiting and talking with Jon it was finally 5:30 and The Master himself arrived by casually strolling in the reception room and shaking our hands. He made a very good impression on us, looking very relaxed and generally looking better than I had seen him during the last two or three years; certainly better than on this press foto!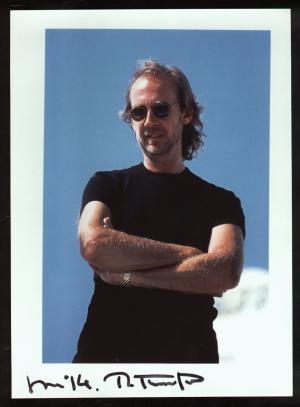 He first had to make an urgent phone call with his plumber but then we went to the mixing desk room and settled down for the interview, which took about 35 minutes.
The first subject was the 2nd Archive Boxset, and immediately it was clear that any speculation about this project being buried as well is slightly premature! Mike even mentioned the possibility of including some studio rehearsals on there! And when I mentioned as an example a live White Mountain Mike first said that this was the PG-era wasn't it? so I pointed out its 1976 performance which prompted Jon Webster, standing in the background, to ask me to forward to him a list of the songs I thought should be included because I knew them better anyway! And so it seems that from this developed the official request from Virgin to the German Genesis fanclub "it" to ask its members to come up with this kind of list as well. So by early May 2000 Virgin should definitely have all the lists they need to finally pull this thing off!
We forgot to ask Mike what he had been doing in the States (he had just returned from an apparently private trip to the U.S.) but as for his future plans he mentioned wanting to write some material for other artists (e.g. B.A. Robertson) but he's also thinking of another Mechanics album later this year.
As far as the future of Genesis is concerned, he stressed that nothing's planned at the moment but that it isn't the end either. He thinks, however, that it's quite difficult in the current situation to get something going again. I asked him who he blames for the failure of CAS in the USA and he gave as the main reason that English bands just aren't popular these days over there. But he also said they had definitely misjudged the American market while planning the tour, especially Tony Smith! Mike said they should have tried to do the North American tour in 15 selected cities that still are safe for Genesis, such as Philadelphia, New York, Los Angeles, Toronto, Montreal etc. According to him the grand stage design plan with the 12 moving jumbo screens had already been dismissed earlier than that, it had never been much more than a nice dream. But he also praised the German market: had the reception of the CAS album and tour been everywhere like it was in Germany they wouldn't be complaining! We know what we like and we still like what we know...
And now for everyone's most favourite subject, the Reunion Rumours! Mike's reply, "nothing's planned" (sound familiar?), was to be expected but again he doesn't want to rule it out completely. He said something like this shouldn't be pushed just for its own sake because you need a specific reason for a reunion. Interestingly he mentioned the Internet in this context, saying that it would be a great opportunity for such a one-off event to be broadcast online, once enough people have sufficiently fast connections; he reckons this will be the case in one or two years.
About Peter Gabriel's plans he doesn't know anything more either but he recounted the ongoing joke that it was always said Peter's album would be out in September but which year??? Concerning the Millennium Dome, he hasn't been there yet but plans to go later on.
He doesn't know anything specific about Tony Banks' plans but he sees Tony's greatest strength in writing film soundtracks, though he said Tony doesn't have much of a name in that particular business so it would be hard for him to get a foot in the door there.
Mike has met Ant Phillips just a couple of weeks ago, they meet from time to time; Ant has just completed some music for a TV wildlife programme about sharks. He also mentioned that Ant is godfather of Mike's daughter.
Finally we couldn't help asking Mike about film footage of the Lamb and the later tours of the 1970s but that didn't yield any revelatory answers, the main line being that they simply didn't commission any filming of the Lamb, which they now regret, but that he doesn't mind us looking for any footage ourselves ("well, then you go find it!" and "we leave that to you guys")).
After the interview Jon took the obligatory photo: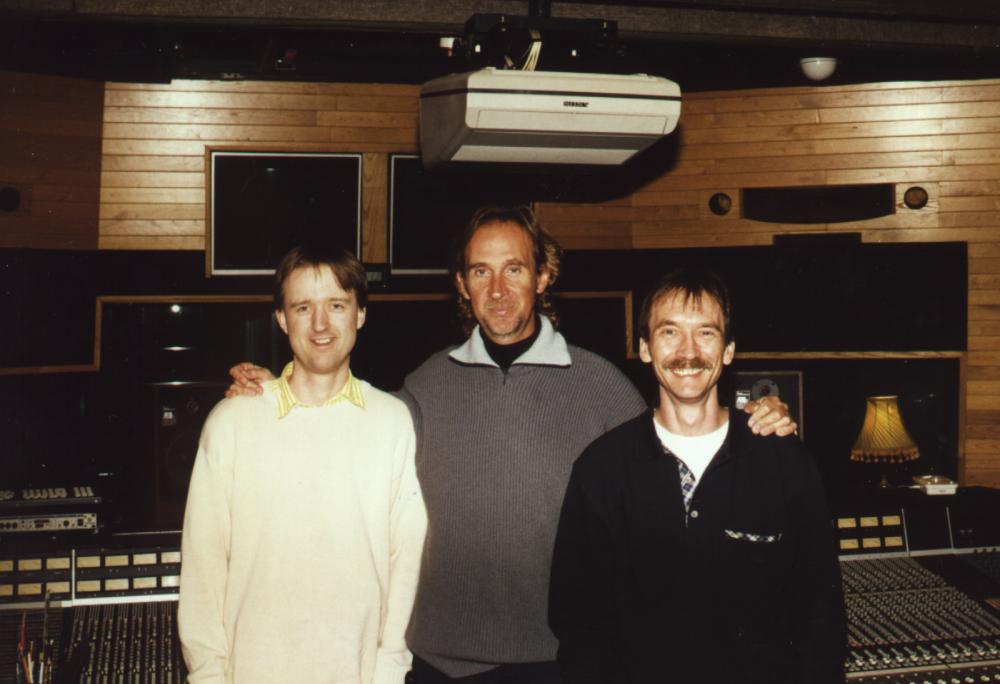 and Mike also signed this Carpet Crawlers 99 promo single that was lying around on the table: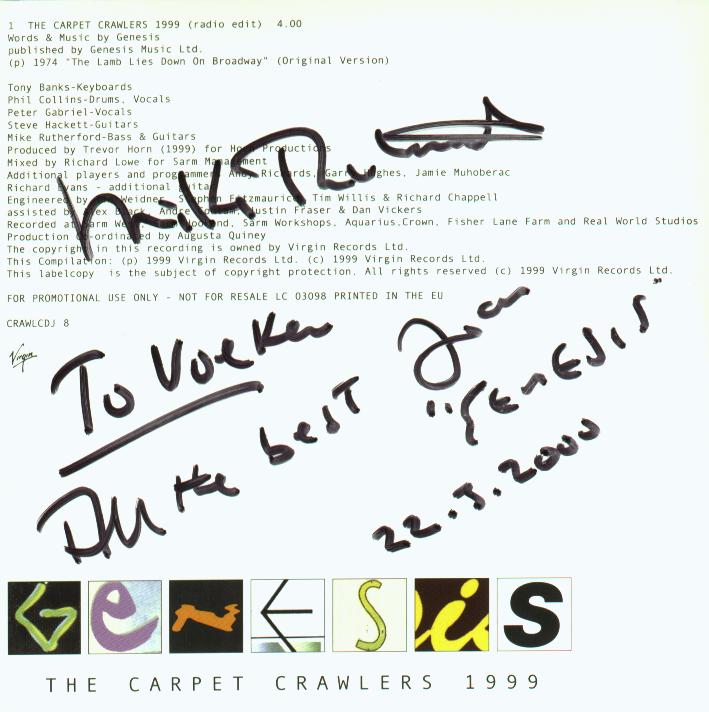 Our time at the Farm had run out and Jon bravely took on the ordeal of driving us downtown to our hotel (the Selfridges in Oxford St.) through the usual London evening traffic.
So our biggest THANK YOUs go to Mike, Jon, and Dale for having made this trip a very memorable experience! Also to Astrid Assél of Virgin Munich for her excellent work in arranging all the details of the journey!